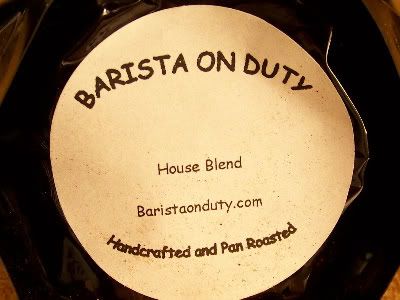 I received a terrific pack of coffee from Barista On Duty at http://baristaonduty.com/. He is a Coffee Lover and a Coffee Entrepreneur who has the pan roasting method down to a science! I've been following Barista's coffee adventures online and have also sampled some of his other coffee blends, but today is an exceptional day because I just received a pack of Dark Pan-Roasted House Blend for my cappuccino machine!
The coffee package was well protected in a padded, water-resistant envelope. This is important because one never knows how the post office might handle a package especially during the rainy season.
I examined the coffee package and I was pleasantly surprised to find that the coffee had been vacuum-sealed just like store-bought gourmet coffee! The package is re-sealable and has a ziplock for easy storage.
As soon as I opened the package, the smell of fresh, delicious coffee was in the air! It was dark, ground just right for my espresso machine and wonderfully fragrant. I loaded up my espresso machine and made 4 cups for the taste test.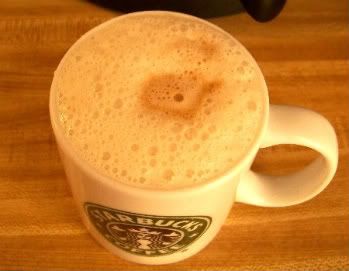 I made the following cups and took about 1 hour to test them:
1) first cup was "black" - no milk, no sugar, NOTHING
2) second cup was with froth only - no sugar, no cinnamon
3) third cup was with froth & cinnamon - no sugar (they way I drink it)
4) fourth cup was fully loaded - froth, sugar & cinnamon
The purpose of this test is to determine quality:
a) did coffee smell stale or fresh when the package was opened? (roasted beans stay "fresh" for up to a month) my findings: coffee was exceptionally fresh, with delicious coffee fragrance!
b) did black cup taste too dull or too flat? (possible indication of cooling process gone wrong)
my findings: no. coffee had perfect balance, good body and rich flavor!
c) did it leave an after-taste? (indicates roasting process may have compromised natural oils, acids & flavor) my findings: no. there was no bitter or lingering after-taste!
d) did it have a burnt smell or taste? (indicates coffee was not ground properly, i.e. fine, medium, coarse depending of type of coffee maker---this could also be user's oversight if type of coffee machine wasn't specified!) my findings: There was no burnt flavor or smell whatsoever! Coffee was ground for espresso machine & cappuccinos were made according to mfr. instructions!
e) did flavorings, i.e. milk, sugar & cinnamon mask or change the taste? (I used the black cup as a point of reference for a before & after comparison) my findings: The first cup and last cup were tested 1 hour apart. The added ingredients complemented the coffee without covering or diminishing it.
Results:
I was very impressed with the aroma, flavor and balance of this dark roast. It had a distinctive rich "roast" flavor without any of the acidity or bitterness. It was well packaged, was fresh, smelled delicious and tasted fantastic! It wasn't too strong or too weak and it turned out a perfect cup each time I made it!
*note: this is my personal experience & opinion! I do not accept payment nor am I influenced to show any favoritism
Some Facts About Home Roasting:
1. The coffee roasting process generally consists of cleaning, roasting, cooling, grinding, and packaging. If any of these processes are compromised, the flavor will be damaged or lost and the aroma may seem rancid.
2. The home "pan-roasting" method is very popular among connoisseurs because it creates little amounts at a time and is made fresh on the spot!
3. It is during the roasting process that the chemical reaction occurs to release the flavor(s) from the beans!
4. Home roasting produces "unique" batches and is not always consistent. One may turn out with a more earthy scent while another with a flowery hint.
5. Home roasting may pose a problem for beginners who are not practiced enough.
6. Every batch is good as long as the beans are not over-processed or under-cooled.
SUMMARY:
Delivery: 5 out of 5
Presentation: 4.5 out of 5 - good size pack; re-sealable.
Freshness: 5 out of 5 - roasts the day before shipping!
Taste: 5 out of 5 - extremely fresh; good taste!
Price: $10 per 6 oz. pack.
Experience: advanced skill / accomplished
Availability: carries a variety of blends & roasts; never sold out!
Shopping: online with PayPal cart
Shipping: received package within 3 days!
Recommendation: TWO Thumbs Up! Very responsive, good communication, and gives all coffee friends personal attention!
Favor this Review!
Labels: barista, cappuccino, coffee, coffee-bean, espresso, organic, pan-roasted, roast